Easton, a young Canadian child, was given the option of choosing any pet at the animal shelter.
On the Exploits Valley SPCA Adoptables Facebook page, the small kid gazed at every furry face he could find. There were a lot of cute puppies and kittens, but Easton chose Tiny a 10-year-old cat.
"We put him on as a courtesy post so he wouldn't have to come into the shelter until he had to," the Exploits Valley SPCA explained.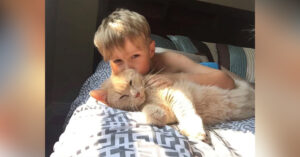 Tiny, despite his little moniker, is rather huge. The shelter classified the large ginger cat as "weight-challenged" and "shy," according to the shelter. Tiny, according to Exploits Valley SPCA Adoptables, has a "large round tummy that he loves to have stroked."
Tiny was brought to the shelter alongside his sister, Trinity, at first. The cats' former owner was unable to care for them and was forced to relinquish them. When Easton's mother decided that they would welcome a new pet, they were both holding out hope of being adơрted.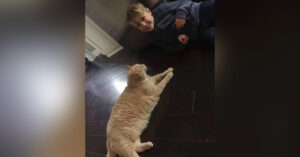 Trinity wasn't very connected to her sibling and may still be seeking a forever home, but Easton knew Tiny was his the instant he saw him. After their first visit to the shelter, everything became further clearer.
"Easton was smitten by Tiny because Tiny was smitten by him." "From the moment he saw him, he was never withdrawn around him," Easton's mother said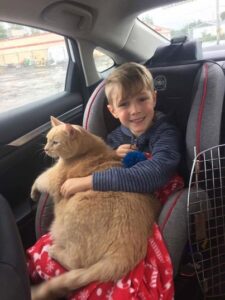 "A beautiful shot captured on the trip home shows Tiny lying in, or rather, entirely taking over, his new owner's lap," the Exploits Valley SPCA subsequently posted on Facebook. "Tiny got out of his cage and cuddled up with his new owner on the way home, and he's been stuck to him ever since."
"Hopefully Easton will give Tiny all the belly rubs he deserves!" The shelter wrote.
We have no doubt he will!